The U.S. Department of Justice said that biotech drugmaker Amgen Inc. paid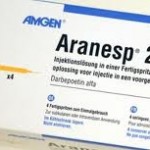 $24.9 million to resolve claims it paid kickbacks to increase sales of its anemia drug Aranesp.
The Justice Department said Amgen paid kickbacks to Omnicare Inc. and PharMerica Corp., which sell drugs to long-term care providers like nursing homes and hospitals, and Kindred Healthcare Inc., which runs long-term acute care hospitals and nursing and rehabilitation centers. It said Amgen wanted the companies to switch Medicare and Medicaid beneficiaries to Aranesp from competing drugs and tried to get consultant pharmacists and nursing home staffers to encourage the use of Aranesp in patients who didn't have anemia associated with kidney failure.
The agency said the Thousand Oaks, Calif., company made payments based on the sales volume or market share of Aranesp. The case began as a whistleblower lawsuit against Amgen. Amgen confirmed the settlement and said it denied all the allegations.
Aranesp is one of Amgen's biggest-selling drugs, but sales have fallen sharply since 2007 because of a series of safety problems and restrictions on its use. In December Amgen agreed to pay $762 million to resolve federal litigation accusing it of marketing Aranesp for unapproved uses. The Food and Drug Administration approved the drug to be administered once a week or once every two or three weeks.
Prosecutors said that among other things, Amgen promoted a once-a-month dose to help Aranesp compete with Johnson & Johnson's drug Procrit.