Belgaum, Karnataka, is a beautiful city situated nearly 2,500 ft above the sea-level and bordering the states of Maharashtra and Goa. On May 12, 2012, amidst the glowing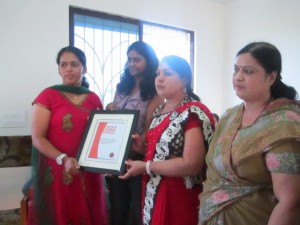 sun and a serene weather, the Asia Book of Record member Rinki Tomar reached this quite city, which welcomed her with a feel of fresh air. Everything about the city was creative and active.
We reached Belgaum to be a part of the auspicious celebration of Mother's day, which was an initiative by the vivacious Mrs. Jyoti Ramesh Chindak, a multiple records holder, and was well supported by her husband Mr. Ramesh Chindak and her very sporting children Nikhil and Anikat. Mother's Day is a day which is dedicated whole heartedly to the most wonderful and special person on this earth, that is 'MOTHER'.
Jyoti Chindak and her team wanted to honor all the mothers spread around the world and also to express their influence in the society in a special manner. The special manner was not by making the mothers remain at a distant and feel proud from far away like a normal mom, but by being a record breaking mother. Why to keep it less for that person who made us eligible to live in this world?
The whole of Belgaum and especially Shiv Ganga Roller Skating club was all set to create the record for India Book of Records. On May 12, 2012, Jyoti Ramesh Chindak and her group tied their saree paloos and started to make the 'Largest waste material Rangoli', using the all the things that we think are useless in our day-to-day life. She was assisted by 10 people who helped her making the vibrant rangoli in just 8 hours.
The major setback was the unpredictable rains of Belgaum, which forced the enthusiastic ladies from making the rangoli. The team had in fact started making the rangoli at 8:30 PM and had made 2 blocks by 9:30 PM, but the rains washed away all their efforts. That did not mar away the enthusiasm of the excited ladies. They collectively cleaned up and dried the entire roller skating rink and started their rangoli making from the scratch. This time even the rain Gods bowed in front of the daring mothers and their daughters and did not dare to pour until the entire colorful piece was completed in the next 8 hours. The resultant was an enormously beautiful creativity spreading over 19582 sq feet and which consisted of the 15 major festivals of India, including Ramjan and Christmas, Nag Panchami and Holi. There was also a colorful self created logo of Mother holding her son at the center of the rangoli.  The amazing rangoli work started from 11:50 PM on May 12, 2012 and was completed amidst the chirping of the birds, at 9:30 AM on May 13, 2012. The participants were worn out but ecstatic and seemed satisfied after the completion.
The materials to be used in this Rangoli are:
1) MARBLES.
2) GRANUALS.
3) RANGOLI COLORS.
4) DECORATIVE PATCHES.
5) COLORS FULL SALTS.
6) COLORS FULL RICES.
7) RAW RICE COVER.
8) SEMI PRECIOUS STONES.
9) STONES.
10) MURALS, DECORATIVE ITEMS, FLOWERS, STATUES, WOODEN BRACKETS, etc
11) BEADS.
12) SAND.
13) MIRROR PIECES.
And other materials which we actually thought were useless till then.
In total, the total celebration was accomplished as promised. Elegant, amazing and full of colors. Jyoti Chindak not only made herself a record maker, but also provided a proud platform for all the mothers to emerge as one. Everyone was happy and satisfied as they had been a member of a great attempt. Even the onlookers were excited as they saw their small city towering towards getting famous.
The trip of ours ended with memories of creativity and added love for our own mothers.  And hats off  to Jyoti R. Chindak for taking such a charming move to add stars to the occasion of Mother's day.
Happy Mother's Day!!