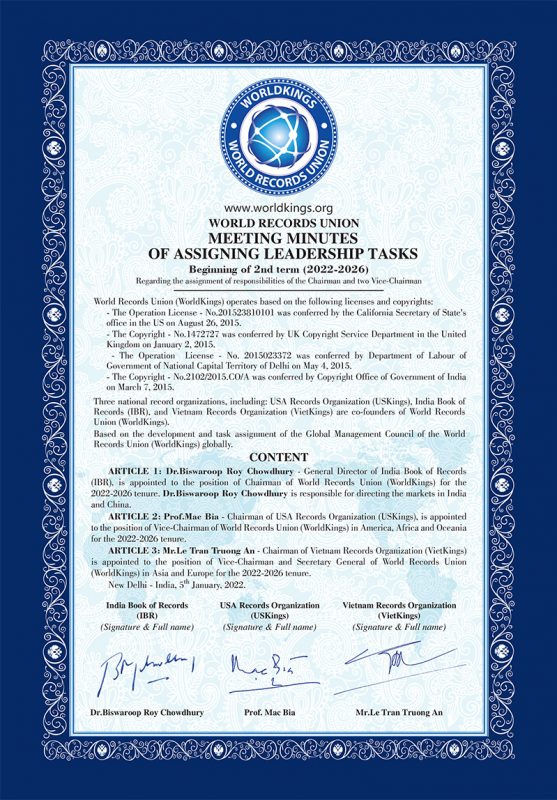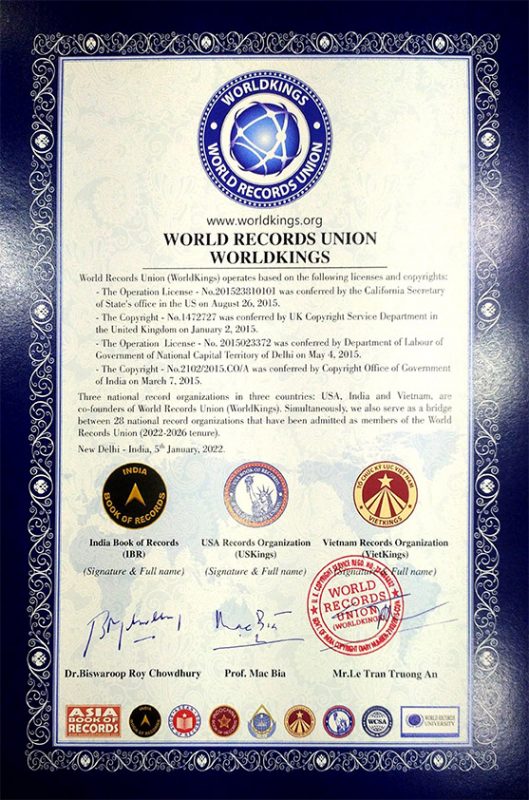 Chief Editor: Dr. Biswaroop Roy Chowdhury
Each one of us is born with some very special, unusual and unique talent that can make us stand apart from the rest of the world. When we recognize our talent, it sometimes becomes a passion. When we follow and practise our passion not only we perfect it, but also we inspire others to follow, that is where it becomes a sport. Asia, the biggest continent with 48 countries, has around 50,000 such sports out of which only 36 are now recognized in Asian Games and 28 in Olympics, which is less than even 0.00056% of the total sports. Rest remained unrecognized and unidentified till 2008 when various national books of records came together to create what today is known as 'Asia Book of Records'. It has its control centres in Ho Chi Minh, Vietnam (contact person: Le Tran Truong An) and at Faridabad, India (contact person: Dr. Biswaroop Roy Chowdhury) with nodal offices/representatives/associates in more than 38 countries.
This is a platform where the record holders of all major national books of records including 'India Book of Records', 'Vietnam Book of Records', 'Indo-China Book of Records', 'Laos Book of Records' and 'Nepal Book of Records' meet to compare, compete and claim the title of 'Asia Book of Records' Holder'. Today, 'Asia Book of Records' is having a strong database of 40,000 entries.
At 'Asia Book of Records', we believe working with you to unlock the hidden, untapped genius within you to open the world of new possibilities. 'Asia Book of Records' is registered with the Government of India with RNI No. HARENG/2011/40693.
Also, this is affiliated to World Record University and follows International Protocol of Records (IPRs) as per the consensus arrived at the meeting of the Chief Editors of National Record Books in Ho Chi Minh City, Vietnam.
 An experienced team of 50 adjudicators ensures that the record-setters reach their goals and achieve the record following all the rules set as per the 'International Protocol for New Records (IPNRs)' guidelines.
Our editorial team of 45 members works tirelessly to verify, process, and authenticate your achievements in an unbiased manner to select the deserving record proposal. 
The extraordinary feats achieved by our record-holders also receive international exposure. International publications like The Washington Post, BBC, The New York Times, The Telegraph, to name a few, give coverage to our record-holders.
Besides the attention received from international media, every year top 50 Asia Book of Records holders' records are placed in the 'World Records Museum', Jakarta, Indonesia. Moreover, the top 10 Asia Book of Records holders are invited and honoured in Ho Chi Minh City, Vietnam by Vietnam Book of Records in the presence of more than 1000 international record holders and the top 50 international media.
'Asia Book of Records' organizes a 'Record Holders Exchange Programme' every year, wherein Asia Book of Records holders get an opportunity to interact with foreign record holders. This programme is organised with the launching of the new edition of the 'India Book of Records'.