Pune or ancient Poona, the eighth largest metropolis in India and the second largest city in Maharashtra, is known for its educational prosperity and facilities provided. But this time, something else of this large city attracted the attention of the media and Asia Book of Records. And that amazing magnet was the scheduled feat of bravery to be performed by an Indian Martial Arts enthusiast.
A ceiling fan, whether summers or winters, running or stopped, is known to everyone on this earth. Ceiling fan is not only a great source of cooling in the heated Indian summers but also is an amazing source of accidents and unnatural calamities. There are so many examples of people getting hurt due to this angelic disaster. Many mothers shout at their kids for jumping and playing on their beds if the kids are tall enough and have a ceiling fan running right above them. In this case, all knows that the parents are not blaming the height of their kids or the height of their sweet home, but the lurking fear of the ceiling fans running, which if touched can cause to an electric shock or a wounded hand, head or the entire person.
Despite aware of all these harms attached, one Punekar Mr. MayurJit Singh Kagade, Founder / Director / Choreographer of MJK Academy of Performing Arts (India) and an Official Member of Dai Nippon Butoku Kai (Japan), was well set to attempt and stop the maximum number of running fans in 1 minute, at Nehru Memorial Hall, Pune, India, on July 20, 2012.
An excited Asia Book of Records adjudicator Mr. Biswadeep Roy Chowdhury reached the airport of Pune on July 19, 2012 amidst its swashbuckling beauty, just to have a glimpse of the feat that was to be attempted by an already excited MayurJit, known as MJK to his fans and well wishers. Mr. Biswadeep measured the rpm (Rotation per Minute) of the ceiling fans using a digital tachometer and the resultant measurement was a whopping 790 rpm, which further added to the already nerve wrecking atmosphere.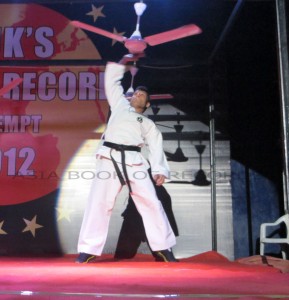 In the presence of the huge gathering of fans, interested Punekars, and the adjudicator, MayurJit Singh entered the Nehru Memorial Hall with great motivation and a breath of passion and endurance. He started his attempt faster than the speed of the ceiling fans giving them a run for their speed. At the end of the already allotted time period of 60 seconds, the attempt was over. The outcome of the 1 minute attempt was the stopping of 26 running ceiling fans by the claimant. MayurJit Singh had broken his own set record of stopping 12 fans in a minute by replacing the figures by 26 a minute.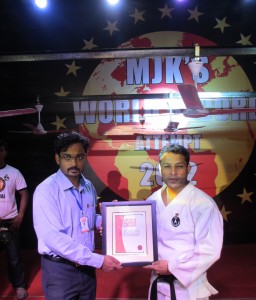 This attempt was the bookmark to an inaugural category as it had never been done in Asia Book of Records before. Stopping a running fan naturally requires a lot of courage and technique. It is never an easy task and is not a cake walk for a normal man. If not done using proper skills, then it might end causing some severe emergency in case of the person attempting it. But Mayur Jitsingh Kagade made this brave attempt amidst the towering heat and humidity, to prove that if you have passion then you can make anything possible.
Asia Book of Records took the greatest pride in adding a star to its record book. MayurJit Singh chipped in with a new category for us. Congratulations to him for having successfully completed what he aimed at.
There is a special mention from our side that this feat should never be tried by anyone without being under the watchful eye of a trainer and is a downright no-no for the kids and the teenagers under 18.