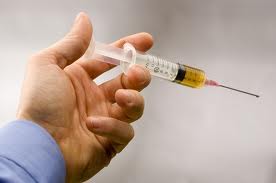 It is a little-known condition that can trigger persistent and debilitating symptoms similar to those associated with multiple sclerosis (MS) and fibromyalgia, but is also one that the medical profession at large is still unwilling to acknowledge. And yet emerging research continues to show that macrophagic myofasciitis, or MMF, is a very real condition brought about as a direct result of vaccines that contain aluminum adjuvants, which become lodged in muscle tissue and lead to severe neurological damage and other problems.
First identified in 1998, MMF is characterized by debilitating muscle and joint pain, chronic inflammation, and incapacitating fatigue. Though clearly distinct from both fibromyalgia and MS, which are also now believed by many to be neurological conditions triggered by vaccines, MMF is similar in that it appears to involve the demyelination of the central nervous system, or the loss of the fatty layer myelin sheaths that protect nerves.
With this loss, comes the development of serious lesions, as well as a type of autoimmune reaction in which the body is unable to properly transmit nerve impulses, and essentially ends up attacking itself. The end result of this can manifest as severe pain in muscles and joints, chronic fatigue, persistent brain "fog," and of course lasting nervous system damage.
Numerous studies link vaccines containing aluminum to MMF
The medical industry, if it is even willing to acknowledge the existence of MMF — for years, conventional medicine also tried to deny the existence of fibromyalgia — insists that the condition has no known cause. But copious research, including a study published in the journal Brain back in 2001, reveals that there is indeed a known cause of MMF, and that cause is vaccines. As it turns out, vaccines that contain aluminum adjuvants, which include vaccines for hepatitis A and B, as well as the tetanus shot, are directly linked to spurring the inflammatory lesions associated with MMF.
"The association between MMF and multiple sclerosis-like disorders may give new insights into the controversial issues surrounding vaccinations and demyelinating CNS disorders," explains the Brain paper.  "[I]ntramuscular injections of such vaccines (that contain aluminum) in experimental animal models induce comparable but transient lesions at the site of injection, suggesting that MMF may occur 'in a predisposed subset of individuals with impaired ability to clear aluminum from the deltoid muscle.'"
A later study published in the Ear, Nose & Throat Journal in 2007 made a similar but much more direct connection. In its opening assessment, the study explains that the pathophysiology of MMF "has been traced to the presence of an aluminum adjuvant used in vaccines." According to the findings, aluminum from vaccines aggregates at the site of injection, and as many as one-third of people that develop MMF as a result also end up developing autoimmune disease as well.
Health authorities deny MMF, as well as any link to vaccines
When presented with this damning information back in 2003, the World Health Organization (WHO), which steers the policy decisions crafted by its many member countries, which includes the U.S., decided to ignore it. Not only did WHO deny any link between MMF and vaccines containing aluminum, but the organization also denied the very existence of MMF altogether.
Meanwhile, a steady stream of studies has continued to emerge acknowledging MMF and its direct link to vaccines. One such study published in the journal Medical Hypotheses in 2009 acknowledges that MMF and autoimmune disorders in general appear directly linked to the aluminum adjuvants found in vaccines.
"This case has highlighted potential dangers associated with aluminum-containing adjuvants and we have elucidated a possible mechanism whereby vaccination involving aluminum-containing adjuvants could trigger the cascade of immunological events which are associated with autoimmune conditions including chronic fatigue syndrome and macrophagic myofasciitis (MMF)," explains the study.