A plaintiff's lawyer in the latest lawsuit claims Merck ($MRK) was warned about the potential for spontaneous fractures 5 years before Fosamax made its debut.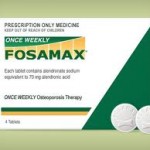 Merck faces 3,300 lawsuits alleging that the bone drug caused serious femur fractures. Pennock represents Fosamax user Bernadette Glynn, who used the drug for 7 years. She claims that Fosamax weakened her femur, causing a fracture when she bent over to pick something up, Bloomberg reports.
A 2010 study flagged a potential risk of femur fractures in patients using Fosamax and similar bone drugs. FDA reviewed the data and added warnings to the drugs' labels, cautioning doctors about their long-term use. An FDA advisory panel also looked at the drugs' risks–including the leg-fracture data–in 2011; the expert advisers favored warnings and perhaps restrictions on long-term use. At the time, FDA had been reviewing bisphosphonate safety for almost four years. Last year, the FDA weighed in with a New England Journal of Medicine review stating that the bone drugs deliver limited–if any–benefit after three to 5 years of use.
This round of Fosamax liability suits joins more than 1000 other cases linking the bone drug to osteonecrosis of the jaw. A bellwether trial recently ended with a $285,000 jury verdict against Merck.