A recent study concluded that eating three or more servings of strawberries and/or blueberries per week protects against cardiovascular disease and heart attacks on women.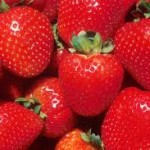 Only women? This study was for dietary influences that increase heart and cardiovascular health, not breast cancer. That's easily explained. This study was one of many in which registered nurses are the subjects, called the "Nurses' Health Study."
That's a pretty convenient approach since nurses are medically savvy and they work in doctors' offices, clinics and hospitals, thus making them easily surveyed, observed, and tested within a prospective study.
Prospective studies are epidemiological (statistically surveyed) studies carried out from a start point and into the future. Using nurses gives researchers an easily controlled and responsive subject base for gathering data as time progresses.
There have been two Nurses' Health Studies conducted for different purposes with a third on the way. These studies are conducted by researchers within a network of medical institutions in Massachusetts and the UK.
Study details
This study's title is, "High Anthocyanin Intake Is Associated With a Reduced Risk of Myocardial Infarction [heart attacks] in Young and Middle-Aged Women." It was accepted by the Journal of American Heart Association November 13th, 2012
The anthocyanins for heart health study was accomplished through the second Nurses' Health Study. It included nurses in the UK as well as the United States, and monitored primarily by the Harvard School of Public Health in the United States and the University of East Anglia, United Kingdom.
This study was carried out over 18 years among 93,600 women aged 25 to 42. The subjects surveyed were instructed to consume strawberries and blueberries high in anthocyanins often solely because women could include them in their weekly diets easily.
The results showed women who ate the most strawberries and blueberries, three times a week or more, had a 32 percent risk reduction for heart attacks than women who them ate less often.
This may not seem like much until you realize that other common risk factors for heart attacks, age, high blood pressure, family heart attack history, body mass, exercise, smoking, caffeine or alcohol intake were not considered in this study.
In other words, your risk factor for heart attacks could be even lower with high berry consumption if your diet is not standard diet and you exercise regularly. The American Heart Association has confirmed that berries are good for men's heart health too.
Basic anthocyanin science and food sources
Anthocyanins, a sub-class of flavanoids were the focus of this study. Although strawberries and blueberries are loaded with them, anthocyanins are common to several other fruits and other plant foods, including some grains. Generally, the more colorful the plant, the higher the anthocyanin content.
An anthocyanidin links with a sugar molecule to form an anthocyanin. Other than chlorophyl, anthocyanins are the most important visible plant pigment producing molecules. As a sub category of flavanoids, their antioxidant properties rank higher than most flavanoids.
Anthocyanins help dilate and clear blood vessels. Other compounds are known to unclog arteries, but anthocyanins are able to work on small capillaries throughout the body as well. Bilberry aids vision because its anthocyanins dilate the small cappilaries in the eyes.
High anthocyanin fruits, include: Acai beriers, apples, bilberries, black berries, blue berries, cherries, cranberries, goji berries, and red/purple grapes. Red cabbage and black beans are also full of anthocyanins.