Osteoporosis weakens bones and increases the risk that patients will suffer fractures. Although the drug zoledronic acid slows bone loss in osteoporosis patients, it also boosts levels of a biomarker that stops bone formation, according to a recent study accepted for publication in The Endocrine Society's Journal of Clinical Endocrinology & Metabolism (JCEM).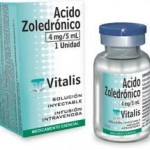 "The key to effectively treating osteoporosis lies in increasing bone mass," said the study's lead author, Antonino Catalano, MD, PhD, of the University of Messina in Italy. "Zoledronic acid halts bone loss, but it also signals the body to stop forming new bone mass.
The prospective intervention study followed the treatment of 40 postmenopausal women at an ambulatory care center. Half of the women received zoledronic acid, and half received a placebo. Levels of sclerostin — a biomarker that inhibits bone formation — increased among the participants who were treated with zoledronic acid.
This is an important avenue for researchers to explore as they develop new osteoporosis treatments."
Other researchers working on the study include: N. Morabito, G. Basile, S. Brancatelli, D. Cucinotta and A. Lasco of the University of Messina.