Allergan Inc, a multi-specialty healthcare company, has agreed to pay $600 million to settle federal charges for "illegally promoting and selling" Botox through 2005 for "unapproved uses" like treating headaches.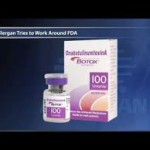 According to ConsumerAffairs.com, the US Food and Drug Administration (FDA) had approved Botox only for use in rare conditions but the company had vigorously promoted it for "off-label uses", including relief from headaches, pain, spasticity and juvenile cerebral palsy. Off-label use is the practice of prescribing pharmaceuticals for an unapproved indication.
US attorney Sally Yates has been quoted as saying that Allergan made it a top corporate priority to maximise sales of far more lucrative off-label uses that were not approved by the FDA. Yates further says, "Allergan further demanded tremendous growth in these off-label sales year after year, even when there was little clinical evidence that these uses were effective."
Botox is designed to block nerve impulses to certain muscles, causing them to relax. The product is approved to treat uncontrolled muscle contractions of the neck and shoulder muscles. Botox is also approved for cosmetic use to treat wrinkles between the eyebrows and to help control excessive underarm sweating.
In some cases, the toxic, active ingredient in Botox — a derivative of botulism toxin Type A, one of the deadliest poisons known — can affect respiratory muscles and cause difficulty in swallowing, a condition known as dysphagia. The product warns doctors and consumers of that side effect.
The FDA said that it appears the active ingredient in Botox can spread from distant parts of the body — such as children's leg muscles — to muscles that affect breathing.
Allergan agreed to plead guilty to a single misdemeanour "misbranding" charge covering the period 2000 through 2005 and pay to the government $375 million. This misbranding charge is known as a strict liability offence. A prescription drug is considered misbranded when its labelling does not contain adequate directions for its "intended uses".
In addition, Allergan has agreed to pay $225 million to resolve civil claims asserted by the US Department of Justice under the civil False Claims Act. The civil settlement is an element of a global settlement that Allergan believes is in the best interest of its stockholders.
In March 2010, the US FDA approved Botox for the treatment of increased muscle stiffness in the elbow, wrist and fingers in adults with upper-limb spasticity.